Perforated Stainless steel strut channel is a type of structural support system that is used to mount and secure various components and equipment.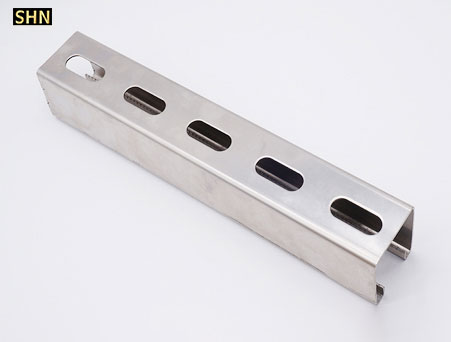 Stainless Steel Strut Channel is made from high-quality stainless steel, which provides excellent resistance to corrosion, rust, and other types of environmental damage.
The Perforated Stainless Steel strut channel is designed with a series of slots and holes that allow for easy installation and adjustment of components.
Strut Channel can be used to support electrical wiring, plumbing pipes, HVAC equipment, and other types of mechanical systems.
Stainless steel strut channel is available in a variety of sizes and configurations, including C-channel, U-channel, and Z-channel.
Strut Channel can also be customized to meet specific project requirements, such as longer lengths or special mounting brackets.
Overall, stainless steel strut channel is a durable, versatile, and cost-effective solution for a wide range of structural support applications.
Its high strength and corrosion resistance make it ideal for use in harsh industrial and outdoor environments.
Please leave your message or consult online customer service for more Stainless Steel Strut Channel products, We will give reply any time.