strut channel Nut with Spring to Fit Channel 304 SIZE NUT THREAD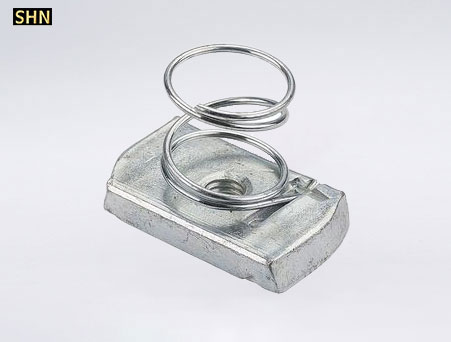 1、 Hex-head bolt threads easily into a spring nut, connecting fitting to channel in one quick one-hand operation.
2、 Chamfer in the spring nut eases starting of the bolt. spring Nut teeth create a strong, vise-like grip when tightened against the inturned channel edges.
3、strut channel edges and the spring nut's tapered grooves act as guides to provide fool-proof alignment of connection.
4、spring Nut teeth create a vise-like grip, tying sides together in a strong "box" configuration, when the nut is tightened against the in-turned edges.
5、Spring Nut allows precision placement anywhere along channel length, then holds the nut in position while connection is completed.
Please leave your message or consult online customer service for more spring nut for strut channel products, We will give reply any time.