Galvanized strut channel unistrut 41x21 is a type of steel channel that is used in construction and other industrial applications to provide support and structural stability. It is made from galvanized steel, which means that it has been coated with a layer of zinc to protect it from rust and corrosion.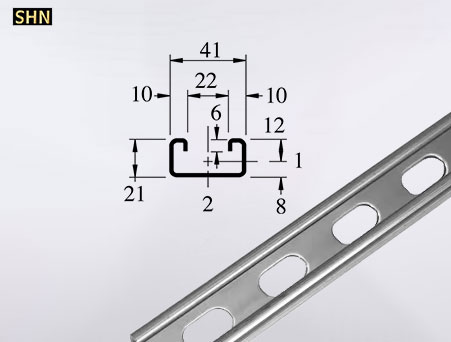 The 41x21 size refers to the dimensions of the channel, with a height of 41mm and a width of 21mm.
This particular size of strut channel is commonly used for light-duty applications, such as supporting electrical conduit, cable trays, and HVAC equipment. It is also used for framing structures, such as mezzanines and platforms, and for creating custom racks and shelving.
Galvanized strut channel unistrut 41x21 is easy to install and can be cut to size with standard tools. It is also compatible with a wide range of fittings and accessories, allowing for easy customization and flexibility in design.
Please leave your message or consult online customer service for more galvanized Strut Channel unistrut, We will give reply any time.